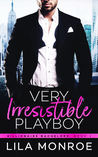 VIP
by
Lila Monroe
My rating:
4 of 5 stars
This is another Billionaire romance, but a very enjoyable billionaire romance. We have Max a playboy who wants very little to with his family's business empire. And Hallie photographer, who for $50.000 has to pose as his girlfriend for a week.
They are going to visit his grandfather for his birthday, as well as the rest of his family. So for moral support Max taking a loving girlfriend. Hallie and Max have chemistry in spades, and very soon they both realise they get on so well. There was so much more to Max and they couldn't help but fall in love.
As we all know the road to true love is never simple. This is a cut above the usual Billionaire troupe. It has real entertainment value, one minute I was fanning myself, and then I was laughing. Max was a hunk, and a real nice guy and  Hallie was a woman with principles as well as intelligent and ambitious. I hope this comes out in Audio because I will be in line to buy. I love my Audios.
I received a copy of this book in exchange for an honest review.
View all my reviews